Our Hope Is Built On Nothing Less Than Jesus Christ and Righteousness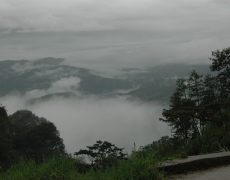 Greetings again from the muddy land of Honduras! We thank the Lord for His faithfulness unto us. Praise ye the Lord. Praise, O ye servants of the Lord, praise the Name of the Lord. Blessed be the name of the Lord from this time forth and for evermore. From the rising of the sun onto the going down of the same the Lord's name is to be praised. The Lord is high above all nations, and His glory above the heavens. Psalms 113.1-4.
Yes indeed, the name of the Lord is to be praised.
First of all, sorry for the late update.
Let us share with you a little bit of how things have been around here lately.
Today is November the 4th, and here in this part of Honduras we are into a very rainy season. It has rained for days and days; when I say RAIN I mean day and night. The other day, when I was driving north of here, I saw only roof tops of houses because the remaining parts of the houses were under water. I have to share with you honestly that this past week, there was a day or two when we were very down, after so many days of being sick in bed, and with water and mud everywhere; I asked what am I doing here? Is it worth it? And then, later, we were comforted and assured that we are here with a definite purpose and, yes, it is worth it. A day or two may seems to be gray, cloudy, and rainy, but one thing for sure is that the sunshine will come in the morning.
"Weeping may endure for a night, but joy cometh in the Morning". Psalms 30.5
It is worthwhile to invest our lives in eternal things, because everything will pass away, and only what we do for Jesus will remain forever. We delight in being in the will of the Father. And this right now is the will of the Father for us. Blessed be our Heavenly Father! Deus e Fiel! God is Faithful!
                                                                                             Evangelistic meetings at different villages
We began the month of September with evangelistic campaigns. The Evangelical Pastors Fellowship invited me to preach at different places throughout the whole month of September. It was a time of harvesting souls for the Lord of the harvest, and yes, the Gospel is reaching the hearts of some Hondurans. The Lord has opened a door for our ministry to go forward with the transforming message of the cross, and we are going through that door.
                                                                                                                                                                                The Present State of This Country
The country of Honduras is at a perfect time for revival; the state of this nation is at the lowest point morally and spiritually. Last Sunday, less than a kilometer from where we are living three man were brutally killed in front of their children by some hit men, and then just down the road the next day at a neighbor village, Rio Lindo, five men were assassinated and their bodies dumped beside the road. As the prophet Isaiah describes in chapter 1 about the state of the nation of Israel, I used the very same words to describe the state of this nation of Honduras: Ah sinful nation, a people laden with iniquity, a seed of evil doers, children that are corrupters: they have forsaken the LORD, they have provoked the Holy One of Israel, they are going away backward… The whole head is sick, and the whole heart faint.   From the sole of the foot even unto the head there is no soundness in it; but wounds, and bruises, and putrefying sores.
I sadly have to say it also in the words of the prophet Habakkuk in chapter 1: Why do you show me iniquity, and cause me to behold grievance? For spoiling and violence are before me: there is strife and contention arises. Therefore the law is powerless and justice never goes forth, for the wicked surround the righteous; therefore perverse judgment proceeds. Sadly, the present state of this country from top to bottom is as described above, but Jesus Christ is the only Hope for it; He is the CURE for Honduras, for the world and even for the USA.
My hope for the Hondurans is that they will yield to the Spirit of God and come to a total surrender allowing God to transform their lives.  Christ the King our only Hope!
My hope is built on nothing less
Than Jesus Christ, my righteousness;
I dare not trust the sweetest frame,
But wholly lean on Jesus' name.
On Christ, the solid Rock, I stand;
All other ground is sinking sand,
All other ground is sinking sand.
When darkness veils His lovely face,
I rest on His unchanging grace;
In every high and stormy gale,
My anchor holds within the veil.
His oath, His covenant, His blood,
Support me in the whelming flood;
When all around my soul gives way,
He then is all my hope and stay.
When He shall come with trumpet sound,
Oh, may I then in Him be found;
In Him, my righteousness, alone,
Faultless to stand before the throne.
Please pray that we will boldly preach God's Infallible Word.
Beach Trip With Summys and the School Teachers (from the Church School)
Early on a Saturday morning, we packed few things and drove with Summys and the two school teachers (Marta and Renita and Jen) to the beach. We went to a place called Omoa, Cortes. A very nice ocean front house welcomed us for the short stay.   It was a good time of rest and fellowship with our beloved friends. We swam with our children in the ocean and hunted for crabs on the beach; sure was nice to have a short break. The beach in that area of Honduras was very pretty with no tourists and with many coconut trees. Praised be the name of the Lord for His goodness.
The Visit of Our Mission Board
We were glad to receive our mission board. Brother John (NC), James (PA), Aaron (OH) and Brother Emanuel Esh (PA) arrived at the airport of San Pedro Sula, Honduras. Dear hermanos, thank you for the time, money, and everything else that you invest in the Kingdom of God. Dear Families of these beloved brothers, thank you for lovingly and joyfully letting your husbands and fathers come to serve the Hondurans. May the Lord God reward you for that.
Our time with the board was a precious time of fellowship. It was a refreshing time under the teaching of Brother Emanuel. (Dear brother Emanuel, thank you for coming and pouring yourself out here in Honduras, I highly appreciate your input. May the Lord God reward you according to His riches in heaven). The outcome of all the meetings was very positive and very promising. We closed the week with a one-day missionary retreat in La Esperanza; that was a refreshing time for all of us.
A great, promising future lays ahead of us, marching under the banner of the cross as Christ the General leads the way. Christian Light Missions exists in Honduras with only one purpose, to preach Christ crucified and resurrected from the dead. Dear brothers and sisters, Christian Light Missions does not have any time to waste; we ought to be about our Father's business.
                                             Filling in While Martins Are on a Six Week Furlough
Normally brother Jeremiah Martin is the pastor at the church here. But they left for a 6 week furlough. So during His absence, brother Allen Summy and I, by God's grace, have been taking the responsibility to keep things going well here. We want to make sure that whatever we do or say will bring glory to the Name of Jesus. Oh how much we are missing the Martins!
It has been a  good opportunity for the nationals to step up and learn to take responsibility. After all, we are after the goal of indigenes churches. Please pray for us as we bear these responsibilities.
Gratefulness Unto You
We once again, dear supporters, want to express our gratitude for your support to us. We feel the support from many of you, and we pray for you very often. May the Lord God give you according to your needs.
Please pray for health for our missionary team
Please pray for our protection
Pray also for the local believers to remain strong
We praise the Lord for giving our health back.
We praise the Lord God for Isaac's first birthday!
We praise the Lord for His protection unto us.
We praise the LORD for He is good and His mercy endures FOREVER.
From Noelia
Blessings to all of you who are reading these lines about our lives and ministry here in Honduras. Let me begin saying thank you to all of you who have sent goodies, letters, pictures, love offerings, and also to the ones who sent emails from the bottom of our heart, THANK YOU!!!!
Lately we have been able to experience some cold weather followed by several days of rain. It was great to have some fall like temperatures except for the rain that didn't stop for almost 7 days!!! We don't have a dryer set up yet so we could wash the clothes but we couldn't dry them; so we had to hang them everywhere where some breeze could hit them. Also, our moods were so down that we really felt lonely and sad. On top of all that the four of us got sick, really sick with high fevers and flu symptoms. Oh yes, we were really down. One afternoon I told Jose that I felt bad that I have been trying to put hope on things instead of looking up to Jesus. I repented from just worrying too much and not for trusting much. I felt that through all of that; God has shown us His mercy, He gives us what we don't deserve and doesn't give what we really deserve. Yes the Lord our God is good and worthy of all our sacrifices.
We are troubled on every side, yet not distressed; we are perplexed, but not in despair; Persecuted, but not forsaken; cast down, but not destroyed; Always bearing about in the body the dying of the Lord Jesus, that the life also of Jesus might be made manifest in our body.       2 Corinthians 4.8-10
We have been very busy too, we are taking care of the Brechbill's farm and also the church. It has been a good experience to fill in for our friends and we are grateful for their trust but I think is time for them to come back. The Martins are coming back in two weeks so we will only be in charge of the farm. I enjoy being at the farm especially when I see Ruth and Isaac having fun with the animals; Rufo is my favorite pet. He is a German Shepherd dog.
Our children are growing healthy and strong; we just celebrated Isaac's first year of life. We had a small cake with a blue candle. He is crawling and trying to pull himself up but he doesn't show interest in walking yet. He is expressing himself more and he just loves his Dad and his sissi (Ruth). He likes reading books and playing with his toys, especially cars and stuffed animals.
Ruth is a strong little girl, I mean she has a strong body after having fever for so long she would always smile and play with his handsome brother. She was given a bike and for the first time she rode her bicycle. She loves it!!! She spends time riding it and when she wakes up in the morning it is the first thing she looks for. She is still doing her school and has been blessed to find some books to work on before we start next year. She loves to sing songs to the Lord. She is a blessing!! She hears people are going to the States so often that she wants to go too; so I told her that we have just come from there and can't go back yet, then she said ok mom but we must go sometime soon to see our friends in Cleveland. So she is praying that God will help us to go back some day.
Regarding me, I am learning to trust our Lord more and more to remember that He is worthy of all. I have been fine most of all the time with some down moments but in all your prayers have lifted me up. I am still teaching the ladies from church every 2 weeks and we are studying Proverbs 31. I am encouraged by these women willing to let God work on their hearts they are very open to share and to ask for prayers. Please pray for them and their families.
Thank you for praying, for caring and for supporting our ministry.   May the Lord God reward you for all you do for us.
MY FATHER PLANNED IT ALL
What tho' the way be lonely
And dark the shadows fall
I know where'er it leadeth
My Father planned it all
The sun may shine tomorrow
The shadows break and flee
'Twill be the way He chooses
My Father's plan for me
CH
I sing through shade and sunshine
I trust what e'er befall
I sing, I can't be silent
My Father planned it all
He guides my falt'ring footsteps
Along the weary way
For well He knows the pathway
Will lead to endless day
A day of light and gladness
On which no shade will fall
'Tis this that last awaits me
My Father planned it all