Committed to the Cause of Christ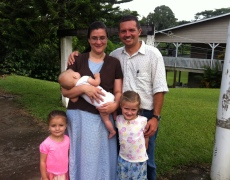 Greetings to you dear Supporter, Family and friends, we greet you in the name of our Mighty Savior, the Lord Jesus!
We would like to share with you little bit of the happenings of the past three months; May, June and July.
First of all we would like to praise the Lord for His faithfulness, provision and for His protection unto us.
Secondly, we praise the Lord and would like to share with you that the first week of June we found out that we are pregnant! Praised be The Lord!
Third, we praise the Lord for Noelia has received the Honduran Residency Card and Isaac and Ruth received their Honduran Passports… And again the Name of The Lord is to be Praised!
We would like also to say THANK YOU for your love, prayers and the unconditional support to us. Your support is making a difference in someone's life.  Hundreds of people have heard the Gospel through our ministry and a good number of people have made a public confession to follow Christ; in ALL we give thanks to God and to you.  We want to be careful to absolutely give Glory to our incomparable Savior, the Lord Jesus.
Brother James Peight's Visit
By the beginning of the month of May Brother James Peight (a board member from our mission) came to spend some time with us all.  The day he arrived in Honduras we left for Carrizal to hold a day of praying and fasting the next day on behalf of the brothers and the work there in that village in general. We continue asking God for direction for the work in Carrizal, we are asking our heavenly Father to provide personnel for the work in that area.
We all met with him individually and it was very encouraging for us to be heard and encouraged by our authorities.
Thank you brother James for investing time and money in the Lord's work in this part of Honduras.
Men's retreat with the brothers
All the men from our assembly and others got together one whole Saturday in the month of May to pray, to fast part of the day, to share, and to seek God for direction in our lives. The whole purpose of our retreat was to draw near to God, putting aside anything else and concentrating on time with the Lord God.
The day was a great blessing, much needed time of fellowship.
We started Evangelizing El Eden, house to house.
"Thus it is written, and thus it was necessary for the Christ to suffer and to rise from the dead the third day, and that repentance and remission of sins should be preached in His name to all nations, beginning at Jerusalem" Luke 24.46-47
Indeed, we re-started in our Jerusalem. We went preaching house-to-house the forgiveness of sins through faith in the birth, dead, burial, and resurrection of our Lord Jesus, the Christ.
Some of us got together evening after evening for one week of going house to house to El Eden. If they don't come, we will go to them. We took the marvelous message of salvation through Christ to their streets and to their doorsteps. That was only the beginning of our evangelization plan. We are planning to continue what we have begun. Oh my friends, we are not ashamed of the Gospel of Christ, for it's the power of God unto salvation for everyone who believes.
We marvel again and again at the power that lays in the message of the Gospel of Jesus Christ. All praise to the King of Kings and Lord of Lords.
We Continue Supporting the Work in Carrizal Lempira.
We have tried our best to stay connected with the work in Carrizal. In the last three months we have gone three times to encourage our fellow missionaries and the believers there. I was impacted with the one story that was told to us by a man in the village that I and brother Rick Yoder visited on one of our trips.
We got to Reynaldo's house that evening. We had gone to visit his family purposely. As we were welcomed in their new house, I noticed the table in the back of the darkish room, the candlesticks around the table covered with white table cloth, and the flowers and the cross laying on the table. I do not recall seeing the idols, the images, but they must have been somewhere there.  They were getting ready that evening, waiting for other peoples of their village to come, and together continue their cycle of reciting prayers for 9 days after the death of a loved one. We had gone to see them, because they had just lost their little girl, who died in the hospital in a city far away (San Pedro Sula) from their village. He shared with us how difficult was for him and his wife in a city far away from home, and losing their second child in that hospital.
After his little girl was pronounced dead, he started making arrangements to take her body back home.
(When I say "making arrangements", what I am saying is that this family does not have a car and they are in need of a ride from that city to their village, and that ride means approximately a 5 hour drive).
He told us how he thought that since there was no one going to his village, he would ask the police if they would take him with his wife and the dead body of his daughter to the police of the next city and the police of that city, to the police of the next city, and from that town to the next… until they get to his own town. Obviously, that plan did not work.
He also thought of getting the body released from the hospital, and start walking the road and hitch hike to his village, all this time with the dead body of his little girl in his arms. Can you imagine that picture? Of course that plan was not going to work either. Instead he ended up in the back of a pick-up truck holding in his arms the dead body of his little girl, sitting beside another dead body, that of a grown man assassinated with 18 bullets. That assassinated man was from a town near his village. Reynaldo was in this traumatic position from the time he left the hospital at 10:40 PM until they got home at 4:05 AM.
I was deeply moved with what I heard. I felt such a level of compassion for this family. To me it is unthinkable what they went through that day. That day we shared with that family the matchless love of the Savior. We only planted the seed of the Gospel. It is God who will give the fruit.
We continue doing our part in Yure.
Every Monday by God's grace we head to Yure. Our mission there is clear, to continue discipleship our new converts and present the gospel to the newcomers.
Sometimes as we are heading up to the village it begins to pour down rain. The trails that lead up to the house that we visit are too slippery when it rains, and for that reason, the pick-up truck has to be left behind, and we must walk the rest of the way.
A few Mondays ago, the trails were dry and we made it all the way up with the pick-up truck because it was not raining, but when we were there, in the middle of the service, it started pouring down. That day, it was by God's Grace that we made it out of the village to the paved road, but it took us approximately 45 minutes to go approximately 3 kilometers downhill. You should have seen how muddy and slippery the road was.
We are very grateful that we can play in the mud for the most "worth it" causes of all, The Gospel of Christ. We are committed to our Savior and to this group of people and the Lord has blessed us with more converts. To God be the glory!
The first week of June, brother John and sister Anna were here
We are forever grateful for the lives of John and Anna Weaver. For their time, money, and everything else involved to support us here in the missions of the Lord in Honduras.
We publicly want to knowledge and recognize their unconditional support to the work of the Lord here in Honduras.
THANK YOU brother John and Anna Weaver.
Therefore, my beloved brethren, be steadfast, immovable, always abounding in the work of the Lord, knowing that your labor is not in vain in the Lord. 1 Corinthians 15.58
Trip to Llanos de Santa Cruz with brother Jeremiah, John, and few brothers from Camino de Santidad
While brother John was here, we made a trip to Llanos de Santa Cruz. Brother Jeremiah, a few other brothers from Camino de Santidad (Holiness Group), and I made our way to the rugged area. This village, Llanos de Santa Cruz, is located about 10 Kilometers from San Isidro, and one and a half hours from Jesus de Otoro on rough roads. (Intibuca Department)
In that village, we were offered a large piece of land with a couple of buildings, including a humble church house if we want it, by The Holiness group (Camino de Santidad) for free. There are approximately 150 houses in that area. Many people there need to hear the Gospel. As we arrived at the property, there were children having school under the pine trees. The property is now loaned to the public school, while their school house is getting built somewhere nearby.
As we were there, we were moved to tears…
After we left the place heading back home, brother John shared with me how he felt as we were driving up there to the place. Driving those very steep, rough roads, he was saying within himself: "even if they give us the whole village, we will not take it". But God changed that in Brother John's heart as he arrived there. He was moved to tears as he contemplated what we can do.
You have to understand, our mission is small, and we are all busy, but our God is GREAT, our God is BIG. So we are asking our GREAT, BIG God to send forth reapers to His harvest.
We ask for your prayers. And you can ask with boldness, because it is God's will for us to pray unto HIM to send workers to HIS fields that are white, ready to be harvested.
Evangelistic Campaign in La Tigra (Yoder's mountain in Siguatepeque)
We have tried to be consistent with our preaching support to Brother David Yoder up in the mountain above Siguatepeque once a month.
Last time we were with them was from June 25 to June 28. There were 4 consecutive nights of outdoor evangelistic meetings held at Brother David's property, under the rented huge white tent. We had a good turnout. There were several dozen people who attended every night to hear God's infallible word. There was a small number of people (do not recall the exact number) who came forward and responded to the call to follow our Lord Jesus Christ as their personal Lord and Savior.
Rick's Farewell
We would like to express our gratitude to brother Rick and sister Missy and their family for the time they spent serving Jesus by serving the Hondurans in the Carrizal village and the surrounding areas.
They have relocated their family back to the USA after more than two years of service in Honduras.
We will miss you dear hermanos, and treasure the memories that we made together.
God be merciful unto us, and bless us; and cause HIS face to shine upon us; that thy way may be known upon earth, Your salvation among all nations. Psalms 67.1-2
Traveling to Costa Rica
It was 1 AM, the morning of July 20, when I left home. I met with brother Jeremiah and Denis at El Eden to go to Honduras' Capital, Tegucigalpa. It was around 4 AM when we arrived at the TransNica bus station with destination to San Jose, Costa Rica.
Out of all the times, for me this was one of the most difficult times to leave my family behind. It was very sacrificial to leave my beautiful beloved family. I wanted to come up with some excuses to not go, but for the cause of the Gospel of my Savior the Lord Jesus it was worth it.
Brother Denis left us at the bus station and drove the van back home, and brother Jeremiah and I boarded the big bus with destination to the first stop in Managua, Nicaragua.
We were going to Costa Rica, accepting an invitation to speak at an Evangelistic Campaign during the week and a youth retreat on the weekend.
So, a big task awaited us in Costa Rica, we were going to be busy for a whole week. What a privilege to travel faraway places and share the Good News, the Gospel of Jesus, eternal life by turning from sin and trusting in the Name of Jesus.
It was 5 AM when we started heading towards the south of Central America. I was meditating that in those days I was going to be in places I was never before and see things I never saw before. The Lord has really taken me places to Proclaim His Marvelous Gospel. Glory to His Name!
Men shall speak of the might of Your awesome acts, and I will declare Your greatness. Psalms 145.6
After a long half of the day we exchange buses in Managua, Nicaragua and continued our trip further south yet.
After a long day of crossing borders, standing in lines at customs offices and lots of miles and hours of scenery from the window of such a big bus, we arrived in San Jose, Costa Rica, a little after 10 PM.
Eldon Kornelson pick us up at the bus station, showed us around the city of San Jose, and introduced us to his ministry there with the transsexual and the prostitutes. What a level of compassion we felt for those poor men and women, imprisoned in that kind of bondage.  Jesus is the answer to any kind of bondage. ONLY IN JESUS CHRIST ONE CAN BE FREE INDEED.  Glory to His Name!
We spend the night at Eldon's house and the next day he drove us to the area where we were going to be for the rest of the week. We stayed part of the week at Brother Arno Dueck's house.
Thank you dear Duecks for your love and hospitality.
Our time in Costa Rica was profitable. Brother Jeremiah and I spent hours in quality time of studying and praying together, begging the Holy Spirit to speak through us. The brethren in Costa Rica were encouraged and the Lord granted His salvation to a few people. We do not labor in vain. The Lord's Name was exalted, the Lord received glory from our meetings in Costa Rica. It is our desired to always give glory to the name of our Savior, our Lord Jesus.
We started our trip back home early 4 AM of July 27 and arrived home safe little after midnight on July 28.
We are forever grateful to our Awesome God; for his protection, His care, and His anointing upon us. ALELUYAH!
Thank you brother Jeremiah for taking me along.
Thank you Eldon and family for your love and hospitality.
PRAYER REQUEST
Would you please remember our family in your prayers? Our spiritual life, relationships with others, health, and protection. We at all times desire to resemble Jesus through our lives.
From Noelia
Blessings to you once again in Jesus name. It is hard to believe that we already are writing this newsletter on the second day of August. How time has flown!!
Jose (Cheppino) and the children have been gardening some. We now have our own yucca, spinach, squash, corn, and beans. We also planted 100 pineapple plants. It is amazing that we can have our own garden. We praise the Lord for our garden!
Our children are doing very well and growing fast! They are very excited about us expecting a baby, they are specially praying for a baby girl! Please pray that I can stay healthy and that our baby grows well too. Ruth had a Birthday on June first. She is very excited to be 5 years old now. She feel like she is a grown up… She has lost three teeth. Two were pulled by herself! She is growing… Ruth is still doing school, and she has become my helper at home with Isaac. She loves playing with Isaac and she wants to have a playhouse where she can have a house for her and her dollies. Also she is looking forward to moving into the new house, and she has asked for a sand box, which Daddy will have to work on. She is saving money to buy a goat, and would love to have a calf, but we are not there yet.
Isaac is talking so much he repeats everything he hears and loves to tell what has happened to him. He has a generous heart and very caring and sometimes very bossy to his sister. Blanco our puppy is his favorite toy, he is always asking where is Blanco? He seems always concern about feeding him and he loves to pet him. He plays hide and seek but he is always the one counting for he can do it very well. He enjoys reading and signing specially at our devotional time.
God is so good to us; He has provided us with tickets to fly to Argentina for about 5 weeks.
A WORD OF GRATITUDE
We are so excited and SO GRATEFUL to all who made it possible, specially Brother John and the board who have done so much for us, knowing we wouldn't be able to pay back, A MULTITUDE of thanks also to brother Tim Brechbill's aunt for giving us the 40,000 air miles, to purchase my ticket.
May the Lord REWARD all of you for your generous hearts, and THANK YOU to whoever else helped. It has been 7 years since I saw my family in Salta, Argentina. Our family is waiting to meet us and spend time with us. They can hardly believe it!
I personally want to express MY GRATITUDE to you all who faithfully support our ministry here in Honduras. Thank you, thank you for praying, for caring, for sharing, for giving, FOR ALL.
God be with you, Always.