Saetas Para Cristo (Arrows for Christ Christian School)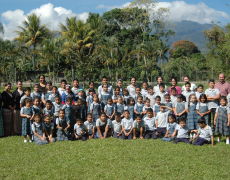 The 2016 School Year has begun!
The 2016 school year has begun with preparations of all sorts. Prior to the first day of classes, the days were very busy for the principal and his family, teachers, and everybody else involved in school work.
On February the second,we held the first formal parents meeting to inform them about everything involved in the 2016 school year. And then February fifteen was the first day of school!   Praise the Lord!
Right on time, every morning from Monday to Friday, the first bell rings at 7:28 AM and the second bell rings at 7:30 AM, before children go into their classrooms. School hours are from 7:30 to 1:00 PM.
We would like first of all to give thanks to the Lord our God for His faithfulness unto us all. For providing for the school ministry needs here in Honduras. We would like also to express our gratitude to you all that support this ministry in all ways. Special thanks to our mission board for all their unconditional support. Thank you; may the Lord richly bless you all.
We would like to encourage you to continue praying for the school ministry here in Honduras.
At Saetas Para Cristo Christian School our vision is clear: "To prepare lives that will impact the world for Jesus Christ, in our village, and worldwide."
Words from the Principal
In the early part of the year 2013, a group of parents from the church in El Eden met to discuss the possibility of starting a school for the nationals. The four previous years, we had operated an English school primarily for missionary children, but now there were a number of nationals who were concerned about the influences of the public schools. This, coupled with our vision to help families, some of them new Christians, build good foundations for their children, fueled our vision for the school. In the initial meeting as parents, we discussed various options, and eventually made the decision to close the school we were operating at that point and open a new, bilingual school operated by a board of directors chosen from the local congregation.
We started our first school term in February of 2014 with three teachers and approximately twenty students, made up mostly of the children from the church. About a third of the students were missionary children and the rest were Honduran nationals. As word spread about what we were doing, we began to see a lot of interest locally in the school by parents whose visions for their families were similar to ours.
The second school term began with approximately forty students and one part time and four full time teachers.
As of March 2016, we have just started our third school term with sixty students (kindergarten – ninth), five full time teachers, three Honduran teachers who cover the required subjects in Spanish, and myself as principle/director.
Some of the challenges we have faced and continue to face are the legal challenges with the education laws, finding committed teachers and staff that contribute to the vision that we have as a school, and controlling the growth of the school. From the very beginning it's been a journey of faith, and God has opened doors in amazing ways.
Allen Summy adsummy@gmail.com
Pictures of Teachers and their Students
A special appreciation to all our teachers and their families who believe in the vision of this school and are investing valuable time and efforts in these children. We bless them for their service unto the Lord!
Jen Steiner (Kindergarten, 11 Students)
Renita Steiner (First Grade, 10 Students)
Jenifer Dueck  (Second and Third Grade, 14 Students)
Isabel Frost  (Fourth and Fifth Grade, 15 Students)
Shanell Martin (Sixth and Seventh Grade, 6 Students)
Patricia Chirinos. (Eighth and Ninth Grade, 3 Students) 
Claudia Rodríguez, Spanish Teacher for First through Seventh Grades
Alejandrina Corrales, Social Studies Teacher for First through Seventh Grades
Group Pictures of students and Teachers 2016
School House Pictures
Various Pictures of School Life!
We would like to take the opportunity to thank the team that came from Ohio to help us with various construction projects at school and other places!