The Beginning of the Honduras Mission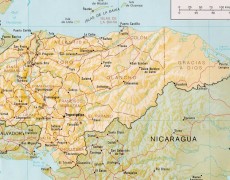 In November, 1998, Hurricane Mitch devastated the country of Honduras. In one week, more than four feet of rain fell. Whole villages were wiped out by mudslides and floods. Loss of life was in the thousands with many more thousands homeless. The outpouring of aid from the USA and other countries was unprecedented in history.
God placed a burden on the hearts of several brethren in the churches of Cleveland, NC and Bedford, PA that this was the time to present the gospel to the people of Honduras. Having seen the mighty hand of God in nature, their hearts would be softer and more open, and God seemed to be saying to us, "Go ye".
After several trips, the question was still, "God, please show us where you want us to go. What part of the country do you want us to be in? God, this is your mission, not ours. Please lead the way."
After one of these earnest prayer meetings, someone told us, "You should go see the Youngbergs." We were told that the Youngbergs were Seventh-Day Adventists who for 40 years had taken malnourished children and nursed them back to health.
The first greeting we received by 75 year old Mrs. Youngberg was, "Are you people Amish? Can you help us rebuild some of our buildings?" We were told how years before, the Amish from Canada had built several buildings for them. Now age, weather, and especially termites had destroyed many of them. Could we help?
This was the answer to our prayers. Yes, we could help. During the next two winters, work crews helped to repair the old buildings, and constructed six new houses for the Youngbergs' workers, houses that were much needed and appreciated.
Our vision was to have a base that visitors and missionaries could come to before going out into the mountains and outlying areas. We bought a house from the Youngbergs' son-in-law, and Tim and Naomi Brechbill, a young couple from Bedford, moved in to be the first family at the new mission base. A guest house was built on the same property, which has accommodated many visitors since.
Honduras is predominately Catholic with some Evangelical churches scattered about. However, there are also areas without any churches at all. Even though the message of Jesus Christ has been presented in most areas of Honduras, there is a desperate need to see it lived out.