Traveling with the Gospel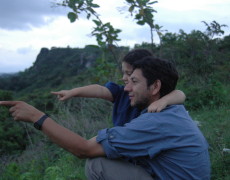 Greetings to you all dear family in Christ the Savior!
It is my desire that this letter finds you prospering in all areas of your lives.
Today, the 22nd of July (the date I started writing), is exactly three months since our arrival to the tropical land of Honduras. We are still adjusting to life in Honduras.
Tambla
We began the month of June traveling 7 hours to Lempira to pay a visit to my beloved family up in the mountains of Lempira. That Sunday in Tambla, my hometown, I was asked to preach at the local evangelical church.
Carrizal
After visiting in Tambla for a week, we traveled about 6 hours to Carrizal, Lempira, the other outpost of Christian Light Missions in Honduras, where the clinic is located. We spent two nights with the Yoders and Erbs, who treated us very well and to whom we are very grateful. The day we were there, Danny had hired over a dozen local, young men to pour a concrete roof top on a new building being built near the clinic.  After the work was finished early that morning, we shared the marvelous Gospel of Jesus Christ to that group of hard working young men, and they all listened to God's Word with reverence.  Later that evening we: Danny, Rick and I, jumped on the mission four wheeler and traveled to a distant village, Guatincara, located at the foot of a mountain called Piedra Parada. We went to an evening service with pastor Geronimo of Camino de Santidad. We made it back to Carrizal that evening a couple of hours later.  The next day we packed our things and left for home in Los Naranjos.
Valle De La Cruz
We have been busy in the work of the Lord traveling Lenca territory, natives of the area of Lempira and Intibuca. In early June, I traveled to a faraway village called Valle de la Cruz (Valley of the Cross). I took few of the young men from the local church in EL Eden and together with the clinic staff, we held a health brigade for the people of that forgotten area. The brigade was held at the local school, and while people were in line waiting to be seen by the doctors, we came in and preached the Gospel. Matt Troyer told me that around 150 people received medical care that day. I wrote over 30 names of all the people who desire to have their own Bible.
I asked the locals if there were any Christians in that village and they said that there are none that they know of; so there is no Evangelical church house in that village. We sat and shared with one man who was in prison for five years. While in prison, he said he made a commitment to follow Christ, but when he was released from prison about one year ago, he backslid, and now he was a fallen brother. We plead with him to reconcile with the Lord God. He was very ripe and together, under the shade of some mango trees, we knelt before the Most High, The Maker of the heavens and the earth, the Redeemer of mankind, and I believe that was the day the Lord had appointed for that man to be born again. He is now the first fruits of the future harvest in that village.  Oh my beloved, when the Gospel of Christ comes to a life, to a family, to a village, to a town, to a city, and to a nation; it is then that a total TRANSFORMATION takes place. Praised be the Name of the Lord Forever! This village of Valle de la Cruz does not have electricity so we are planning to take a generator and show the Jesus Film and afterwards preach the transforming Gospel of our Messiah, the Lord Jesus! So on August 14 and 15, Lord willing, a group of us from El Eden and Erandique will meet there together with the one and only purpose to share Christ crucified and raised from the dead with the locals there. We will also bring them the Bibles that I have promised them.
Ruth
We most definitely want to publicly express our gratitude to the Lord God our Healer for healing Ruth. She did not eat for 3 days and everything she tried to eat was vomited and she had 10 consecutive days of diarrhea. We asked you to pray, and you did, and the Lord heard our cry and answered our plea.  Ruth's health was completely restored. MUCHAS GRACIAS for praying. After those ten days were over, I heard Ruth singing her new song: "Diarrhea, Diarrhea".
Campanario
Only about two weeks ago, we men gathered together and had a day of fasting and teaching, and then held a three evening evangelistic campaign in Campanario, a village about 20 minutes from El Eden. There were three teenagers that made a commitment to follow Christ, and one other person publicly renounced her life of witchcraft and idolatry.
El Eden
Things are also taking place in EL Eden. A couple of young men and a third one from a nearby village have surrendered their lives to the Lordship of our Savior. We are expecting great things from the Lord, and we are committed to raising high God's holy standard of truth. This coming week, Lord willing, we will start discipleship with the new converts.
Legalizing My Family in Honduras
Just last Friday we came back from Tegucigalpa, the capital of Honduras. We were there for four consecutive days to file citizenship applications for Isaac and Ruth and a residency application for Noelia. This process is not very pleasant. They make things very complicated and the city itself is not easy to navigate. But in spite of everything, we are grateful with the One who called us. He is always looking out for us. Thank you Lord God for being with us at all times. In everything we give you honor and glory. We now just have to make one more trip to the Capital in few days to pick up Noelia's, Ruth's, and Isaac's passports that are being held at the Immigration office.
Macuelizo, Intibuca
We came back from the capital last Friday afternoon, and early, the morning of the next day, I was headed with two brothers from the local church in El Eden to another health brigade in a village approximately three hours away from home. Two hours driving on a paved road and approximately one hour driving on a very steep, rocky, dirt road. It is a village where I preached 4 consecutive days when we first arrived in Honduras three months ago. The name of the village is Macuelizo and it is located up in the mountains above Jesus de Otoro. Weather there is cool and there is a lot of coffee coming out of there headed for the coffee markets. I believe close to 100 people received medical care in that village that day. I came there with the goal of sharing God's Infallible Word. I consider it a privilege to travel to some of the most remote parts of this country with such a profound truth as the Gospel of Christ. I often tell the people that stop to listen to this message, that Jesus is the only Hope for Honduras!
Our Back Porch Visitors
Today is July 24, 2014, and we will post this third update of our missionary life in Honduras. Among the things that we have to adjust to here in Honduras is thieves. We were robbed for the first time this week. Someone broke into the back porch and stole some plastic shelves we use to store our vegetables and fruits. We will still leave things out there and we will leave a note for this thief. The note will read something like this: "Dear thief, please know that Jesus loves you and that he does not want you to be a thief. He wants to save you from your sin. If you need something else, please come see us during the day. We love you and we are here to serve God, and by the way, the item that you have stolen is God's, so you are going to have to talk to Him about it. Jesus is waiting for you…"
In Summary
I want to say that we are committed to the work of God in Honduras. I want to take this opportunity to express my gratitude to you dear supporters, you who are investing your resources in the Kingdom of God. Thank you very much. And also to you who are praying for us constantly, multitude of thanks…
And to you, our dear family at CBF, we want to once again say THANKS for the love, kindness, gifts, letters, and support that you have shown to us. We also want to say GRACIAS to the families at Harmony that have shown love and kindness to us. Thank you for your love, gifts, and support.
Pray for:
Noelia now has rash in different parts of her body. Would you please pray for her health?
Protection from evil and for our health
God's annointing on Jose while preaching and testifying
Abundance of grace for us when facing challenges
Thankful for:
Rainy season
A great variety of fruit and vegetables
Body of Christ
His faithfulnees
Jesus and His power
From Noelia
Greetings to all our supporters, friends, and relatives:
It's July already and we are finishing our third month in this tropical land of Honduras. The weather has changed some in the last weeks we have had some wonderful rainy days and nights. The house where we are staying now has two screen doors that help to get more cool air, thus refreshing the house. Thank you brother John!
June started with the celebration of our daughter's fourth birthday. Yes, our Ruth is now 4, and she is enjoying it. She was blessed with two small celebrations, one here at home, and the other in Tambla, where her aunts even set up a piñata for her. Oh, how much she enjoyed it. It was her first celebration with this part of the family so it was very special. She is helping a lot at home, doing her school, and also being a big sister to Isaac. I say if they have each other, they don't need any toys. In Honduras, most people have 'pilas' to wash their clothes. It is built in the shape of a sink. It is square, made from concrete, and is used to store water and to wash your clothes. Ruth likes to wash her hands in the pilas at the houses that we visit. Isaac is now a 7 month sweet, smiling baby. It is a blessing as well that he is always happy and content even with strangers around. He often sits up and he is trying to crawl. Go for it, son!!
We also traveled for the first time together as a family to Tambla, Jose's home town where he was born. We had a wonderful time with my sisters-in-law, mother-in-law, and nephews and nieces. The children stole all the attention since it was the first time they met each other. The aunts did a very good job at spoiling them and us. They cooked special dishes and took us to different places to meet family members as well. It was a very sweet week. Thank you Lord!!!!
We have faced some health issues ourselves; first Jose got the flu and a strong cough that lasted a couple of weeks. Then I got the flu as well, plus a fungus, several insect bites, burns on my fingers, muscle pain in my right leg, and now rashes in different parts of my body. As you can see, it hasn't been easy for me. Sometimes I even felt discouraged by so many things at the same time. But His grace, oh yes, His grace has carried me through day by day. Ruth also had high fever and diarrhea and yet we chose to believe that He is able. Yes, do it Lord!!
We have continued visiting the sisters from church, basically for encouragement and prayer. I was asked to teach one Sunday school class and it was a nice experience for me and Ruth.
I have borrowed a cookbook from a cousin that shows how to make some typical dishes, breads and more. I am loving it!!!
Jose travels a day or so to preach at faraway villages and when he is in town, he shares at the local church or at Campanario, a nearby village. Please pray God will speak through him every time and that he will stay humble and Godly.
With much love, Noelia