Exploratory Trip to La Moskitia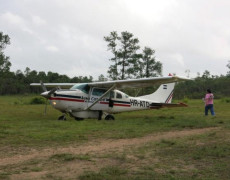 Greetings to those interested in Moskitia land! I am very glad that Anthony and I could make a quick trip to visit Chuck and Katie Gehman before we head to the states in a few weeks. We were blessed, inspired, and amused. The main purpose of our trip was to spend time encouraging and blessing Chuck and Katie. I also wanted to see firsthand what the Moskitia is like and listen to what God might be saying about possible ministry opportunities there.
Anthony and I both enjoyed the flying a lot! Although we have done quite a bit of flying, this was first time traveling by small plane. If I could rename the airline we used, I would call it "The Back Woods Flyboys," or something like that! We got to the airport in La Ceiba around 5:30 Monday morning hoping to catch the 6 o'clock flight to Wampusirpe. I was a little nervous because I was told they don't necessarily fly every day. When they have enough of people they make a trip. By the time I got to the desk they said the first flight is already full but there will be a second one at 10 o'clock and it will be a direct flight to Wampusirpe. That was fine with me, at least we were going to be able to fly on the day we wanted to! Our truck was giving us problems and we thought the starter must have shorted so we parked it and planned to repair it when we got back.
Around ten o'clock an old twin engine plane pulled up outside the waiting area and we were soon noisily shuttering aloft, our eyes burning from the exhaust of the big old engines just outside our windows. After about an hour of bouncing through the clouds, we descended onto a narrow dirt strip in the middle of some wilderness. We careened up to a little shed on one end where a few people were waiting. The captain droopily crawled out of his little corner of the cockpit and asked, "Brus Laguna?" We stared at him and explained that we are having a direct flight to Wampusirpe! Blankly he replied, "Oh… oh Wampursirpe…… Ok." After picking up a few passengers we soon bounced into the air again. This time the pilots opened their windows and let the fresh air scream through the cabin until they reached cruising altitude. That was blessed relief from the fumes; the only problem was we were feeling a little light headed up there above the clouds with no pressure in the cabin! We continued following the coast and I soon saw that we were still not heading toward Wampusirpe as one guy we picked up in Brus was asking the pilots if they were going to make it in time for his connecting flight. We were heading for Puerto Lempira! I realized then that God was good naturedly giving us a long, round-about tour of the Moskitia. I kinda chuckled and wondered just what all God has "up His sleeve". Interestingly, it gave me more assurance that we were in fact supposed to be wandering around out there "above" the wilderness.
After swapping a few passengers in Puerto Lempira we were soon in the air again, looking down on more of the most deserted wilderness I have ever seen. There was an occasional shack here and there beside a creek or in a clearing in the forest. Mostly it was swamp, grass, and sparsely scattered pine trees. Finally we dove onto another bumpy airstrip, plowed through a few large mud puddles and lurched to a stop in front of a little roofless shack. Sure enough, there was Chuck in his shorts and rubber boots, happily waiting for us to crawl out of the ole flying machine.
After a few purchases in Wampu, we jumped into Chuck's enormous dugout canoe and headed up the river, which was about 15 feet higher than normal as a result of some heavy rains the day before. I was glad to be traveling with an experienced motorist as we dodged logs and charged into rapids! Soon we arrived at Kurpa, a town of several hundred inhabitants, nicely perched on a high bank of the river. Chucks live near the center of the little village on a piece of land that was given to them by the mayor.
These people are more independent and reluctant to open themselves to foreigners than the Latinos we are used to working with. They are very laid back, but do not appreciate other people invading their territory, especially not the Latinos who are more aggressive and want to take advantage of them and their resources. Their culture reminds me of some of the American Indian cultures. There is a lot of laziness and lack of purpose. There's lots of witchcraft which, of course results in a heavily darkened condition of mind. According to a discussion I overheard, they do not believe in sickness and have very little confidence in medicine. They consider sickness to be evil someone has done to them and much prefer the use of their occultic remedies. They have mixed this stuff in with the religion they received from the Moravians and other missionaries who have tried to reach them in the past.
There are quite a few churches in the Moskitia but not many victorious Christians. Chuck had been teaching a discipleship class attended by around twelve men. But one by one they drifted away and now he's down to one faithful man by the name of Roberto, who seems to have an impressive testimony of surrender to the Lord. I enjoyed getting to know him and invest in his life. I especially felt moved to pray that God would preserve this man faithful to the end and make him a man of spiritual authority in his community. May God abundantly develop His gifts in and though that brother, giving him all the ammunition from heaven against the devil and his strongholds in that area.
We had some great prayer meetings together and distinctly felt God was pleased and is anxious to bring our petitions to pass.
The drug trafficking has further cursed these people since it has become one of their biggest sources of income. One day we went to a nearby airstrip where drug planes have landed and claimed it for God's work! No more drug planes to land there! Many drug planes and boats travel through the area, with drugs that originate in South America and are en route to the big cities here as well as to Mexico, the U.S. and probably other countries. So we prayed for this curse to stop and instead of this being the drug highway to the nations, we are claiming it to be the gospel highway to the nations!
Recently a plane tried to land in the area, which they normally do at night with lights off in hopes of not being detected, but the military was following it with another plane which had equipment to block radio waves. Consequently the pilots of the drug plane could not communicate with their ground crew to have them line the strip with lanterns, so they circled the area until they ran out of gas and crashed into the forest. When the people of Kurpa heard the crash, they, including, to Chuck's dismay, almost all of his disciples and even the pastor of the church, hastily deserted the village and headed to the mountain in search of the plane. Chuck asked the Lord to hide it from them and four days later they sulkily came straggling back to the village empty handed. The plane has not been found! If they would have found it, they all would have tried to grab a bale or two of cocaine and hide it in their house until the drug guys come down the river looking for it. If I remember right, they can get paid as much as 2 million Lempiras ($95,600) for 1 bale of cocaine. The town gets so flooded with money that it totally loses its value. Some store owners triple the prices on their merchandise but the shelves are left stripped bare. The people will buy guns and anything until there is nothing left to buy. Can you imagine the devastating affects this has on these people and their culture!
Chuck has been resisting and rebuking this curse and is trying to help them by providing a different source of income. He has a rice hulling machine and is helping to establish a better market for the rice farmers. He has been buying rice and hauling it to bigger towns in an effort to provide a better price for the producer. He also has one room under his house where he repairs boat motors, and another where he has some dentistry equipment and pulls teeth. The latter also doubles as a class room where he has been having his discipleship classes etc.
After spending 2 days in and around Kurpa we headed back to Wampusirpe and helped Chuck drill one well and start another one. That was interesting to me as I had never seen a well drilled before and often wondered how it is done. Chuck has drilled many, many wells with his little rig and by doing so, is significantly improving the quality of life for these people. He has been charging $200 for a private well and has been doing public wells for free. I think they are typically 25 to 50 feet deep and he equips them with an impressive little hand pump made totally from basic pvc parts and a couple marbles!
On Friday morning we caught a plane back to Puerto Lempira. This time we flew in a small 6 passenger Cessna flown by a big black fella in a tee shirt and jeans. We later found out that he was apparently the infamous "Sammy the drug plane pilot," who is like a cat with nine lives. He has flown anything from junk planes held together by weld and who knows what else, to "state of the art" planes stolen in South America and flown to Honduras laden with drugs and landed at night with no lights, on remote jungle airstrips. At one point I heard that he has had crashes on an average of once a year or so! Wow! I thought it was neat to get a chance to fly with him! I figure he's got to be one of the safest pilots anywhere around with that kind of experience under his belt!
After a grueling day of jungle flying, we finally arrived back in La Ceiba with splitting headaches from altitude sickness, fumes, and noise. I tried not to think about the discomfort as we push-started our crippled truck and headed for home as fast as we could. It seemed perfectly normal to "put the petal to the metal" and zoom around the curves, buses, trucks, and cyclists at breakneck speeds. It seemed like I should have been able to just pull back on the steering wheel and head into the clouds! We did get home in one piece, happy and content and with lots of tales to tell!
I mentioned that the reason for our trip was to see what the ministry opportunities are and to see how we can bless Chuck and Katie. Below are some needs that I am inviting you to help with if you would like to give cheerfully. Or pass on the info to others you think may be interested in helping.
I would like to help Chuck purchase a cell phone antenna that would hopefully allow him to receive phone service at his house. Currently his only means of communication from home is a satellite phone that is very expensive to use.
He could also use a good weed eater which we can purchase in San Pedro Sula and have it sent to Him.
Chuck would like to double the size of his little shed where he keeps his rice hulling machine so he can work more efficiently and store more rice. With $1,500 to $2,000 he could nicely improve his building. Any extra money would enable him to purchase a larger amount of rice this year, thus helping more farmers.
Chuck has only limited financial support for his well drilling project and has been paying for some of the wells out of his own pocket. This is a neat, low cost project at $200 a well, so a little help would go a long way.
You can pray, pray, pray! Launch your long distance missiles against those strongholds in the name of JESUS and see how God will claim that place for His kingdom.
If you would like to help with any of these needs, you can contact us for more info.
By the way, La Moskitia is located in a state of Honduras called Gracias a Dios (Thanks to God). Doesn't that sound like a prophetic name!
Blessings to you all, Tim